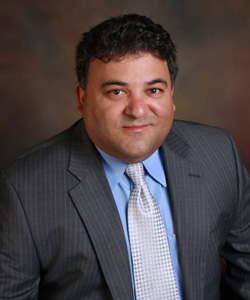 Edward P. Sanchez attended the University of Texas at Austin, where he earned a Bachelor of Arts degree in Economics in 1988. After earning his degree, Mr. Sanchez attended Texas Southern University, Thurgood Marshall School of Law where he became a member of Phi Delta Phi, an international legal fraternity and earned the Praemium Excellentia Award in Fall 1993. He also served as the student representative of the law school's admission committee. He earned his Juris Doctorate in 1994 ranking in the top 20% of his graduating class.
After graduating from law school, Mr. Sanchez served the State of Texas in Austin as an Assistant Attorney General of Texas representing the State in Federal Courts throughout the State of Texas. Mr. Sanchez successfully tried over 30 trials as lead counsel for the State of Texas in its Law Enforcement Defense Division. After gaining extensive jury trial experience Mr. Sanchez established a private practice and served as co-counsel to his father, R. P. (Bob) Sanchez, Attorney at Law, in various personal jury trials. In 2001 he joined the firm of Barrera, Sanchez & Associates, P.C. where he continues to fight for injured clients, single mothers and small businesses throughout the Rio Grande Valley. Mr. Sanchez became the first attorney in Hidalgo County to represent a litigant in a same sex divorce case after the U. S. Supreme Court's decision in Obergefell v. Hodges recognizing same sex marriages in June 2015.
Mr. Sanchez has served his community as a member and Vice Chairman of the City of McAllen's Planning and Zoning Board and a member of McAllen's first Historic Preservation Board. He also served as a board member for the Advocacy Resource Center for Housing (ARCH) of Hidalgo County, Texas which provides housing assistance to the disadvantaged. Mr. Sanchez was as a founding board member of CAMP University which serves the community by providing learning opportunities to special need young adults. As a past president of the Hidalgo-Starr University of Texas Alumni Association, Mr. Sanchez has helped raise scholarships for local graduating seniors attending the University of Texas at Austin.
Mr. Sanchez is married to Dahlia Galvan Sanchez, an educator with 28 years of experience teaching science in our public schools. They are the parents of two boys, Sebastian age 15 and Anton age 13.